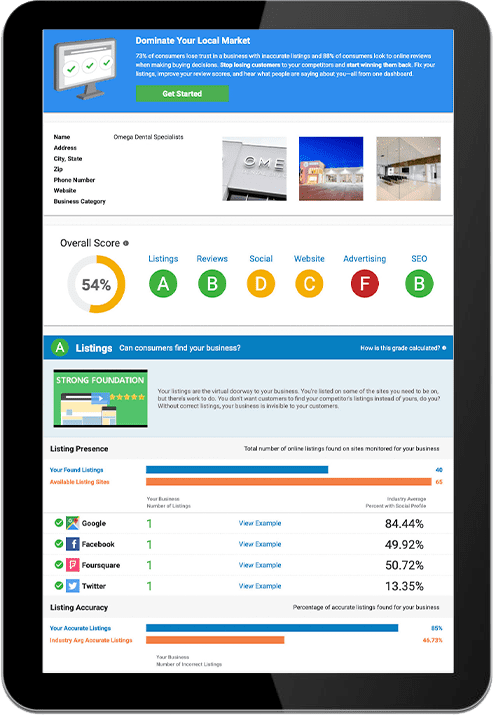 Let's face it, you are losing leads to your competitors.
Let me explain…
The internet is a powerful tool when it comes to selling your product or service, but if you're not showing up in searches then that's the first opportunity lost. If you are showing up but have a poor online reputation – meaning poor quality reviews, then they will skip over you and head over to your competitor's site. Let's say your potential customer has clicked to your site – can they quickly find all the information on how you can help them and how to work with you? Is it simple and easy to understand? If not, they will quickly move on.
A weak online presence makes your business easier prey to negative information and hinders its success.
Luckily, our Snapshot Report can help. This complimentary report will give you a clear picture of how your business is doing online, see how you rank against your competitors and provide a marketing assessment.
We offer three digital service models that cater to the unique needs of your business
Do-it-yourself
Looking to take your marketing efforts into your own hands?
With our easy-to-use tools, you can create a powerful online presence that will help you attract new customers and grow your business. You'll be provided the support you need with educational resources, be able to track your progress, and see results quickly.
So why wait? Get started today with our try-before-you-buy Online Growth Kit!
Do it with me
Are you ready to take your business to the next level?
Our new DIWM package options offer you access to all the tools you need to Do It Yourself, in the areas you feel confident. And in the areas you're not so confident? We're happy to manage those services for you to ensure a successful digital marketing campaign that fits your budget.
Do it for me
Would you like to leave the digital marketing of your business in the hands of professionals?
We offer premium quality, full-service digital marketing services that are tailored to fit your business's unique needs and goals.
We will help you identify and attract your ideal clients, dramatically improve your online presence, and significantly increase web traffic and sales. With our experienced team of professionals, you can rest assured that we will get the job done right. Let us do it for you!
Digital Marketing Services You Can Count On!
We believe every business deserves a comprehensive digital marketing strategy that creates sustainable growth at any budget.
OUR SOLUTIONS
SEO
Are you their

first

option?
Are you able to target the right keywords and appear on the first page of Google?
Our SEO specialists know the tips and tricks to help you rank high on search engines and drive traffic to your website.
Digital Advertising
Do they

know

about you?
Are you looking for quality conversions and increased brand awareness?
Our PPC experts ensure they create the best advertising campaign that suits your needs.
Social Media Management
Do they

like

you?
Are you able to promote your products online and generate enough leads?
We can help you build brand loyalty and widen your reach through effective social media interactions.
Website Design
Will they

convert

?
Are enough customers visiting your website?
We can help you boost traffic and sales with a mobile-friendly website and attractive visuals.
Listings Management
Can they

find

you?
Are customers able to find you online easily?
Our experts will ensure all your business information is updated accurately across various directories and listing sites.
Reputation Management
Do they

trust

you?
Do your customers trust you enough?
We let customers feel seen and heard by acknowledging and responding to their reviews and feedback on time.

Schedule A Consult
Get your free Snapshot report and schedule a consultation.

Needs Assessment
Together we identify the solutions that will 10x your business.

Watch Your Sales Grow
We get to work optimizing your business. You experience results.
Customers Love Us. Here's Why!
Let's Take the Mystery Out of Your Marketing.
Get Clear, Tangible Results That Lead to More Business and More Freedom.
More Opportunities to Do Business